House Plan of 3035 sq.ft. Kerala Home
Here's a well-thought-out plan of a wonderful Kerala house. It's designed by giving the priority to your level of comfort. This includes 4 spacious bedrooms with attached and a common bathroom among everything else. Together, the house covers two storeys at an area of 3035 square feet.
Sneak a peek at the plans.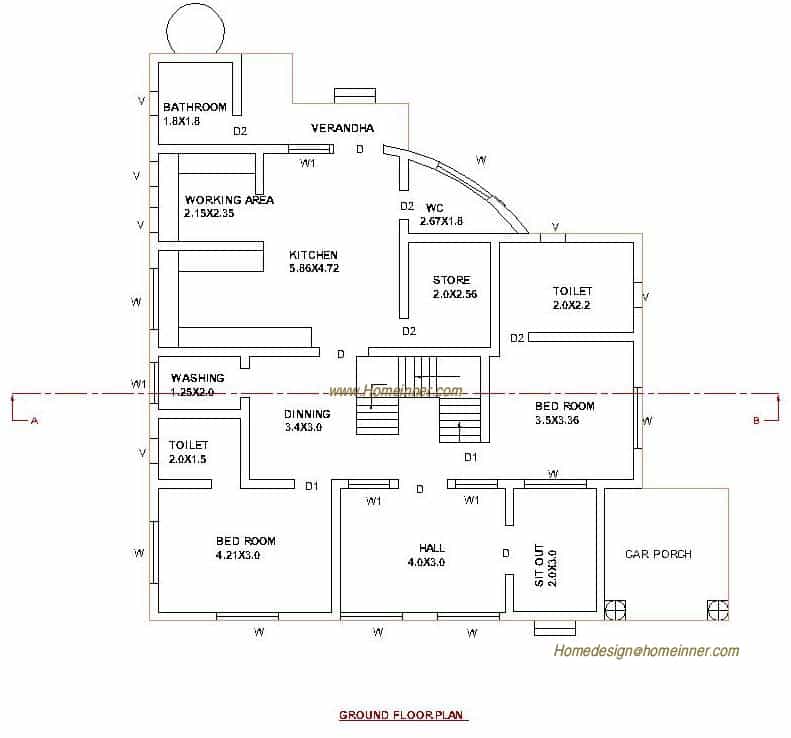 The ground floor of this house comprises of everything you'll want to make yourself feel at home. It starts with a car porch that has ample space for your car. The sit-out next to it may not be the most spacious, but definitely agreeable. It'll lead you through the main door to the hall which is large enough to accommodate many people at once.
This hall connects directly with a comfortable dining room that has a washing area attached. This way, you can easily prepare yourself for dinner without having to go in search of a washroom elsewhere.
The kitchen, being the heart of the home, is generously large. Attached to it is a convenient work area that's meant to simplify your tasks in the kitchen. There's also a verandah and a bathroom which can be reached through this kitchen.
Two of the 4 bedrooms promised to you is located on this floor. They each have a toilet attached, and sized perfectly – leaving you ample room for comfort and no room for complaints.
The first floor plan of this house covers many facilities that are often not covered by Kerala houses. You'll realize it once you make your way up the stairs and find yourself in an expansive hall. On either side of this hall are the remaining two bedrooms.
These bedrooms are once again spacious and have bathrooms attached. However, the bedroom to the left could be used as the master bedroom for it has a beautiful balcony of its own.
There's another balcony as well, with its entrance to the main hall. Additionally you'll find a store room allocated for storing the famous Kerala coconuts with a chimney, and two open terraces.
Kerala house plan specifications
Ground floor : 1540 sq. ft.
First floor    :   1495 sq. ft.
Total Area   :   3035 sq. ft.
Bedroom     :  4
Bathroom     :  5
Facilities included in the plan
Car Porch
Sit Out
Living
Dining
Bedroom
Bathroom
Kitchen
Work Area
Balcony
Open Terrace
Are you already halfway in love with the detailed plan of this incredible house? Then what are you waiting for! Get in touch with the architect and find out the cost. Contact details are provided below.