Kerala Contemporary House Design at 1800 sq.ft
It's not easy to track down a modern house that would fit your taste. But this house elevation might put an end to your search. It has two storeys across an area of 1800 square feet and looks absolutely gorgeous.
The unique low roof that slightly juts outward is undeniably beautiful. This design could also be seen on the external window shades – heightening the distinctive design of this house.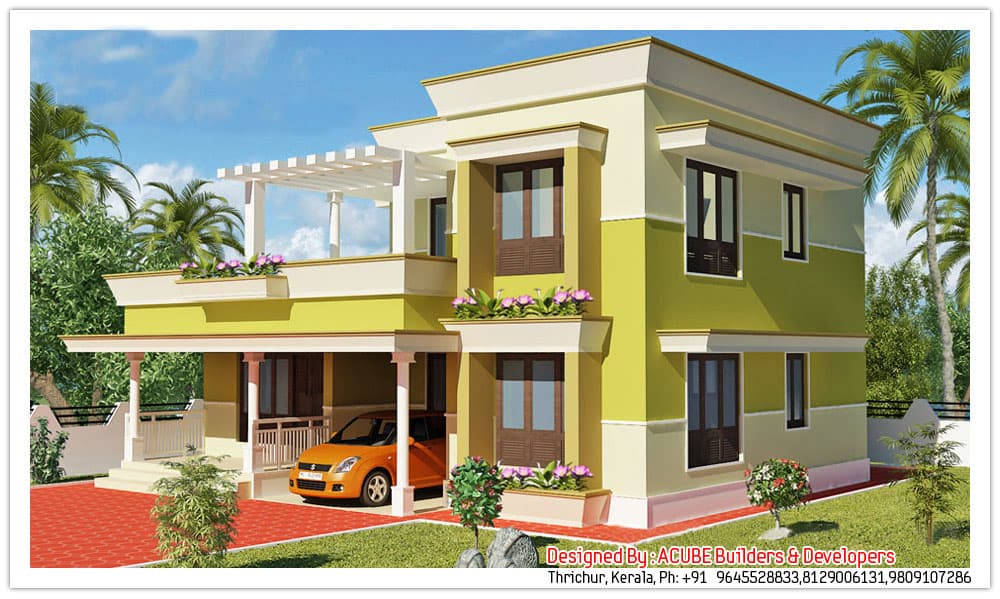 There aren't many pillars to be seen, except for the ones holding the porch and the terrace together. They don't have voluptuous curves, but they're slender and curvy enough to fit in with the rest of the house.
There's a portion allocated underneath the windows and balcony to grow flowering plants. Once on full blossom, there's no saying as to how wonderful it'll look.
Both the storeys of this house hold 3 bedrooms and 5 bathrooms among other things needed to make you feel at home.
House Elevation Details :
Ground floor : 1300 sq. ft.
First floor  : 500 sq. ft.
Total Area   : 1800 sq. ft.
Bedroom      : 3
Bathroom     : 5
Do you think this house is worth your time? Then don't hesitate contacting the architect for more information regarding the plan and price. The details are provided below.
ACUBE
Builders & Developers
Vayalambam,Anchappalom
Thrichur . DT
Kerala ST
India
Ph: 9645528833,9746024805,9809107286
Email:[email protected]