3
Kerala Home Architecture Design at 2600 sq.ft
Pillars have a way of intensifying the beauty of an already beautiful house. So is the same with this house design. With half to full pillars on the porch, sit-out, balcony and the railings, the house looks stunning in an artistic way.
The roof on the first floor seems to be having a dual impact. But the roof covering the porch, on the other hand, has a traditional impact. Yet they all serve to make the house look bigger than its original 2600-sq.ft area.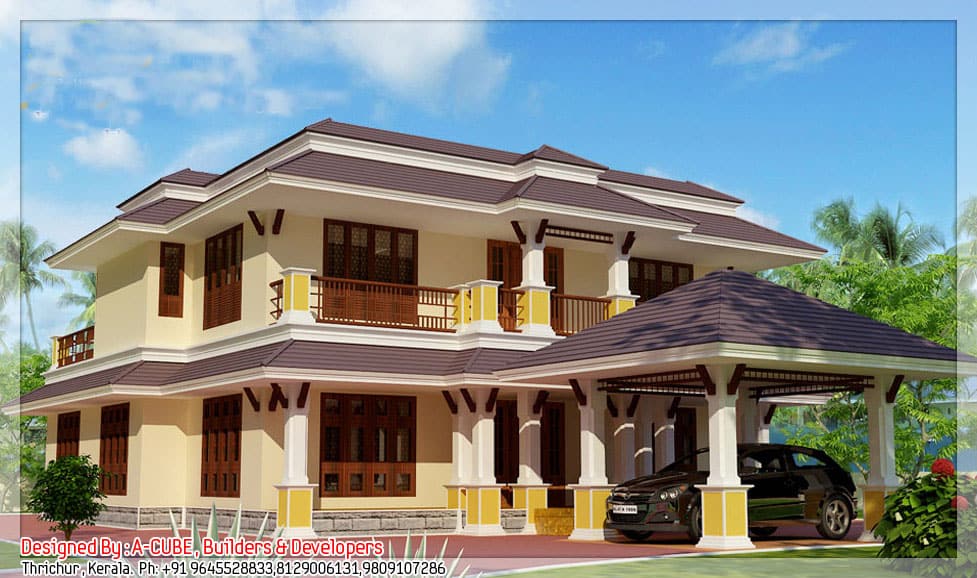 You'll also notice that there are multiple windows in a row, almost 4 together. This could be an attempt of the architect to provide more light into this mansion, while making it look stylish at the same time.
All things considered, it'll turn out to be a pretty nice house once you put it together. It's very convenient too, with all the essentials needed to make living comfortable for you, along with 4 bedrooms and 5 bathrooms.
House Elevation Details :
Ground floor : 1600 sq. ft.
First floor  : 1000 sq. ft.
Total Area   : 2600 sq. ft.
Bedroom      : 4
Bathroom     : 5
Has this design caught your interest? Then you can find out more detailed information by contacting the architect.
ACUBE
Builders & Developers
Vayalambam,Anchappalom
Thrichur . DT
Kerala ST
India
Ph: 9645528833,9746024805,9809107286
Email:[email protected]