2
Kerala-Style 4 Bedroom Home Plan at 2000 sq.ft
Here's an elevation of a rare and uncommon Kerala house across an area of 2000 square feet. It has two storeys, and together they host 4 spacious bedrooms with an equal number of luxury bathrooms.
Not a single curve could be seen and the lack of curves only serve to heighten all the beautiful, sharp edges and fine lines. You'll also notice how both flat and sloping roofs have been used simultaneously. They blend in well with the rest of the house.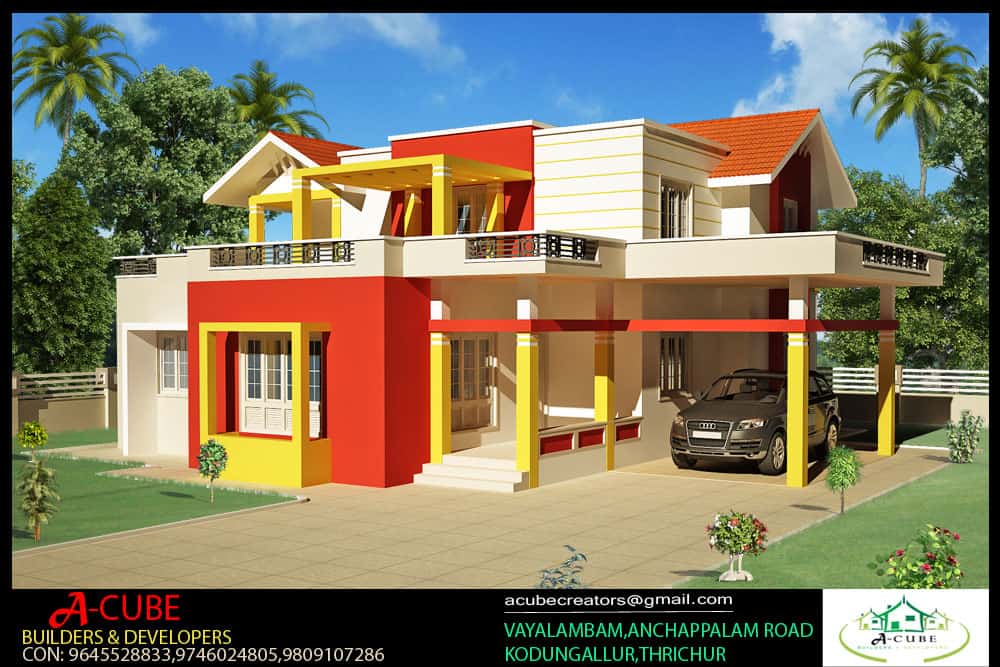 The open balcony is covered with a simple railing and the closed portion of the balcony is held up by pillars that have a very basic design. Similar pillars are found downstairs too. Though lean, they provide adequate support to the house.
The land portion occupied by the ground floor is 1500 square feet, which leaves only 500 square feet for the first floor. As a result, the first floor serves actually as a half-floor.
The house plan covers many facilities, which includes a porch with parking space for one vehicle, likeable sit-out, warm and welcoming living rooms on each floor, spacious dining, pantry kitchen with a convenient work area and store, expansive balcony and an open terrace.
Kerala house plan specifications
Ground floor : 1500 sq. ft.
First floor    :   500 sq. ft.
Total Area   :   2000 sq. ft.
Bedroom     :  4
Bathroom     :  4
Facilities included in the plan
Porch
Sit Out
Living
Dining
Bedroom
Bathroom
Kitchen
Work Area
Balcony
Open Terrace
Loving the design already? Then get in touch with the architect for more information on the plan and cost. Contact details are provided below.
Acube Builders & Developers
Anjapalam , Kodungallur
Thrichur . DT
Kerala ST
India
Ph: 9645528833,9645506699,9809107286
Website : acubebuilders.blogspot.in