6
Kerala Style Contemporary Villa Elevation and Plan at 2035 sq.ft
Here's a wonderful house that'll tempt you to call it home. Every nook and cranny of it is moulded with modern architecture. Independent portions of the roof have a distinctively curved design, whereas one part of it is simply flat.
The windows have an extended part of the roof shading them from taking in unnecessary rays of the sun. You'll love the design of the balcony too, which seems to caved into the wall.
Both the storeys of this house cover an area of 2035 square feet and host 4 bedrooms and 5 bathrooms.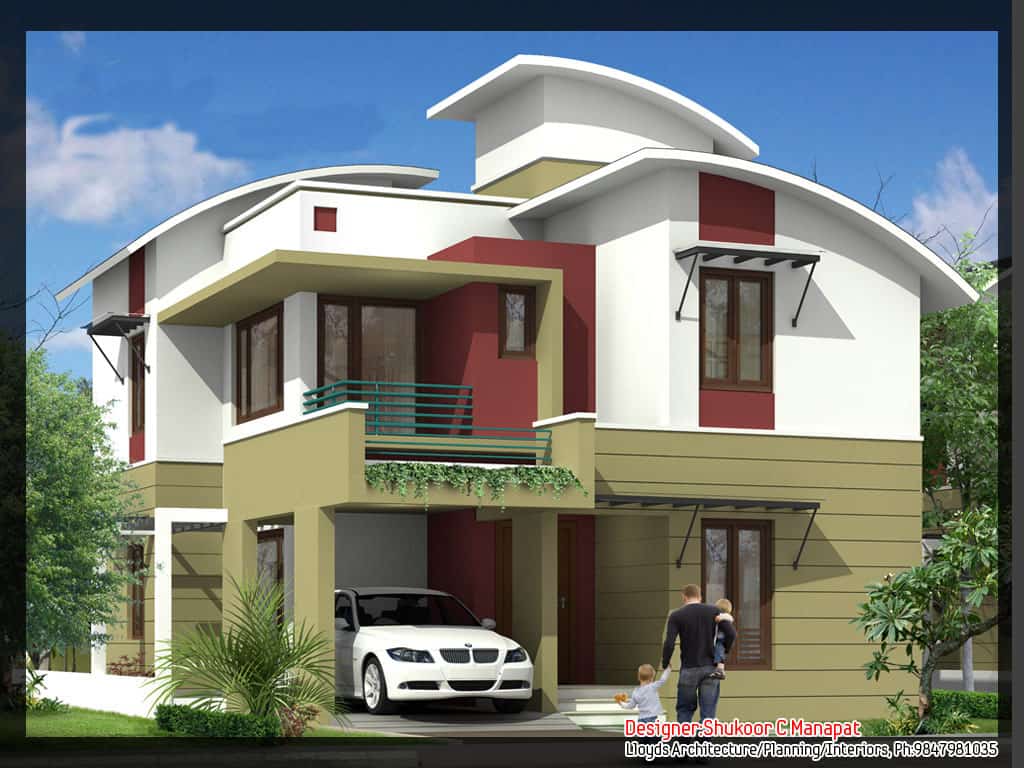 House Elevation Details :
Ground floor : 1108 sq. ft.
First floor  : 927 sq. ft.
Total Area   : 2035 sq. ft.
Bedroom      : 4
Contemporary Kerala style Architecture.
Ground Floor Plan
The architect deserves credit for making the plan lively and colourful. It starts out with a foyer that has parking space for one vehicle. Next to it is a sit-out that then opens up to a foyer. To its right is an expansive living room that'll snatch your breath away.
The dining room is spacious too, and has a massive guest bathroom on the opposite side. The flight of stairs leading you to the next floor is also situated in this area. This part of the house serves as the mid point of the house as well, and makes it easy for you to come down to dine from upstairs.
The pantry kitchen interconnects directly with the dining room for your ease. It also has a spacious work area connected to simplify the work load in your pantry kitchen and keep it looking brand new for long.
Only one of the 4 bedrooms promised to you is located on this floor. It has everything you'll possibly want in a room, including a work area and a luxury attached bathroom.
First Floor Plan
When you make your way to the first floor, you'll find yourself in the middle of a cosy living room. It has direct access to 3 massive bedrooms, and all three of them have their own private bathroom.
One of the bedrooms even has a separate area for dressing – leaving you simply nothing more to ask for.
Additionally, a sky light, terrace garden and a balcony lights up this otherwise simple floor.
Caught yourself dreaming of living in this house? Then you must be interested in more information that only the architect can provide. Contact him through the details provided below.
Architect : Shukoor C Manapat
Lloyds
Architecture/Planning/Interiors
Second Floor
Marina Residency, YMCA Cross Raod
Calicut
Mobile : 9847981035